Owner/Master Esthetician & Sugaring Practitioner
Amanda is a local to the Ogden area and has created a very dedicated clientele through her exceptional customer service, honesty, and extended knowledge and continued education of proper skincare. The heart of her treatments focus on a holistic approach to skincare health. Amanda and her husband live in the small town of Liberty just over the mountain range from Ogden where they raise their daughter and run a farm, teaching themselves how to live a more sustainable lifestyle. Amanda has been in the industry for 12 years and has worked for several reputable spas since her completion of her esthetics program in 2006. She is also a Certified Sugaring Hair Removal practitioner receiving her certification and education from Alexandria Professional, the nation's first and only sugar epilation company to be approved by a National Accrediting Company NACCAS (National Accrediting Commission of Cosmetology Arts & Sciences).
Owner/Master Stylist
Alexandra moved to Ogden bringing along with her her passion and strong drive for professionalism within our industry. Alexandra is a local to Northwest Indiana. She completed her program at the The Aveda Institute of Chicago in 2008 then continued immediately working for an Aveda salon for 5 years before moving abroad where she continued to run a small hair business from her home. Alexandra and her husband reside in Liberty, UT with their daughter where they continue their love for the outdoors and travel. Alexandria believes that there is a sense of customer service and overall esthetic that she can really bring to Ogden-ites.
Owner/Master Esthetician, Sugaring Practitioner, & Lash Artist
Shelbie, a local to Utah, moved to Ogden in 2012 and instantly fell in love with the unique city. She recently graduated from her Master Esthetics Program at the five star rated Avalon School of Cosmetology. With Shelbie's completion brings fresh learning experience and insight to the ever-changing field of skincare. She stays grounded by staying connected to the outdoors enjoying the beautiful terrain Utah has to offer while hiking, fly fishing and skiing. Shelbie's strong will, work ethic, passion and eagerness to learn and progress is what brings a fresh, modernistic approach to the overall team.
Master Esthetician & Sugaring Practitioner
After being diagnosed with skin cancer and working with a dermatologist and plastic surgeon for months, Morgan fell in love with everything skin. She began looking for a career that could help people with their skin care needs. She enrolled at Fran Brown College of Beauty Master Esthetics program and graduated in 2005. She went on to receive her Instructor License and began working as a master esthetics instructor. Looking to master some new skills she trained in the art of body sugaring in 2015 and has been thriving at it ever since. In her own words, "I feel so blessed to have found a career that helps guests look and feel their best. I love to see the change that can take place with healthy skin care practices and the difference it can make to one's self-esteem."
As a Alexandria Professional Body Sugar Practitioner she is dedicated to making sure you feel comfortable, relaxed, and that you enjoy your experience. She adores her clients and has a genuine relationship with each and every one of them. She truly enjoys coming to "work".
When she is not taking care of her guests at a.&co. you will find her loving on animals, spending time with her husband, whom she is crazy about, and chasing their 3 beautiful children.
Massage Therapist
A Utah native, Sadie was raised in Ogden Valley where she began her career as a holistic healer. She has a passion for helping guide others to feel healthier, happier, and refreshed day to day. Sadie believes massage creates a balance of the mind, body, spirit and guides the body in relieving tension, stress, and
chronic pain.
Sadie has worked in an assortment of resorts, from Alta, UT to Garmisch-Partenkirchen, Germany. An outdoor enthusiast, she loves to snowboard, hike, camp and travel. Given her lifestyle, she has a great understanding of the strain those activities and daily life can put on one's body, and how massage can rejuvenate and center the body and the mind.
Master Stylist
Sami was raised in Farmington, Utah and has lived in Ogden the last 5 years now calling it home. She has been in the hair industry for the last nine years and has worked with Aveda for four of those years as a Master Hairstylist. She is all about giving her clients hair that makes them feel good on the inside and bringing out the best of their unique beauty on the outside. Her interests outside of work include yoga, astrology, creating Macrame hangings, hiking, and skiing. "I'm so excited and grateful to work with a & co and the wonderful women on their team, as well as working with Aveda to help me give my clients the hair they will love."
Junior Stylist
Abbigale was born and raised in Utah, and has always had a passion for the beauty industry. She started studying cosmetology at the OWATC when she was 16 years old, and discovered that she not only loves enhancing beauty on the outside, but loves making people feel good about themselves on the inside. She finds it very rewarding to see her clients feeling beautiful and confident. She strives to make sure each and every one of her clients leaves her chair feeling satisfied and happy.

Outside of the salon she enjoys, snowboarding, and yoga, and loves going home to cuddle up to her 3 pups and a cup of tea while submerging herself in all things hair.
Microblade Artist
Shyanne is a Utah native, she chose Ogden as her home after living in both Texas and Florida. She is 27, married with 2 pups 🐾!After years in the social work field and trying to fulfill her passion in the beauty industry by doing hair for weddings on the side, she decided to put that nagging voice in her headthat was always telling her she wasn't good enough to rest and face her fears and follow her heart... She enrolled at 3D Brows, an award winning microblading school, and started a career that honored her true passion of making women feel beautiful and powerful by helping them feel good about themselves with permanent makeup! She loves that this career allows her to be creative and gives her the opportunity to make genuine connections with the people who honor her with their trust to let her artistry shine through on their faces-literally! Her guests safety and comfort is her number one priority. With little regulation in current microblading education standards she continues to go above and beyond by continuing her education and mastering each of the microblading techniques that blanket the brow artistry world.

In her free time you'll find her relaxing with a cup of coffee, playing hockey with her husband, submerging herself in the unconditional love of her furry, four legged children, indulging in chips and salsa, horror films, and murder mysteries!
Master Esthetician
Angelina, originally from the Los Angeles area, moved to South Ogden in 2006. After staying home with her 3 daughters while they were young, she was ready to be employed and begin a journey she could call her own.
She seeked out education in something she had always loved. The Beauty Industry was always something she dreamed to be a part of and In 2017, Angelina received her Cosmetology license. During that time she discovered her love and fascination for skin and decided to continue her education in the esthetic field. She received her Masters Esthetic license in 2018.
Angelina currently works at the Montage Resort in Deer Valley where she works on clients from all over the world doing hair and nails. She is extremely excited to be a part of the a.&co. team where she can use her esthetic skills and meet new clients. When Angelina is not bringing out the beautiful in others, you will always find her with her family. Her husband, who she adores and her 3 daughters are her world.
She enjoys reading, watching movies, snuggling with her dogs, and watching her daughters play soccer and dance.
Angelina believes that there is always so much more to learn in this line of work. She is adamant about continuing her education and expanding her knowledge so that she can be the best Esthetician for her clients.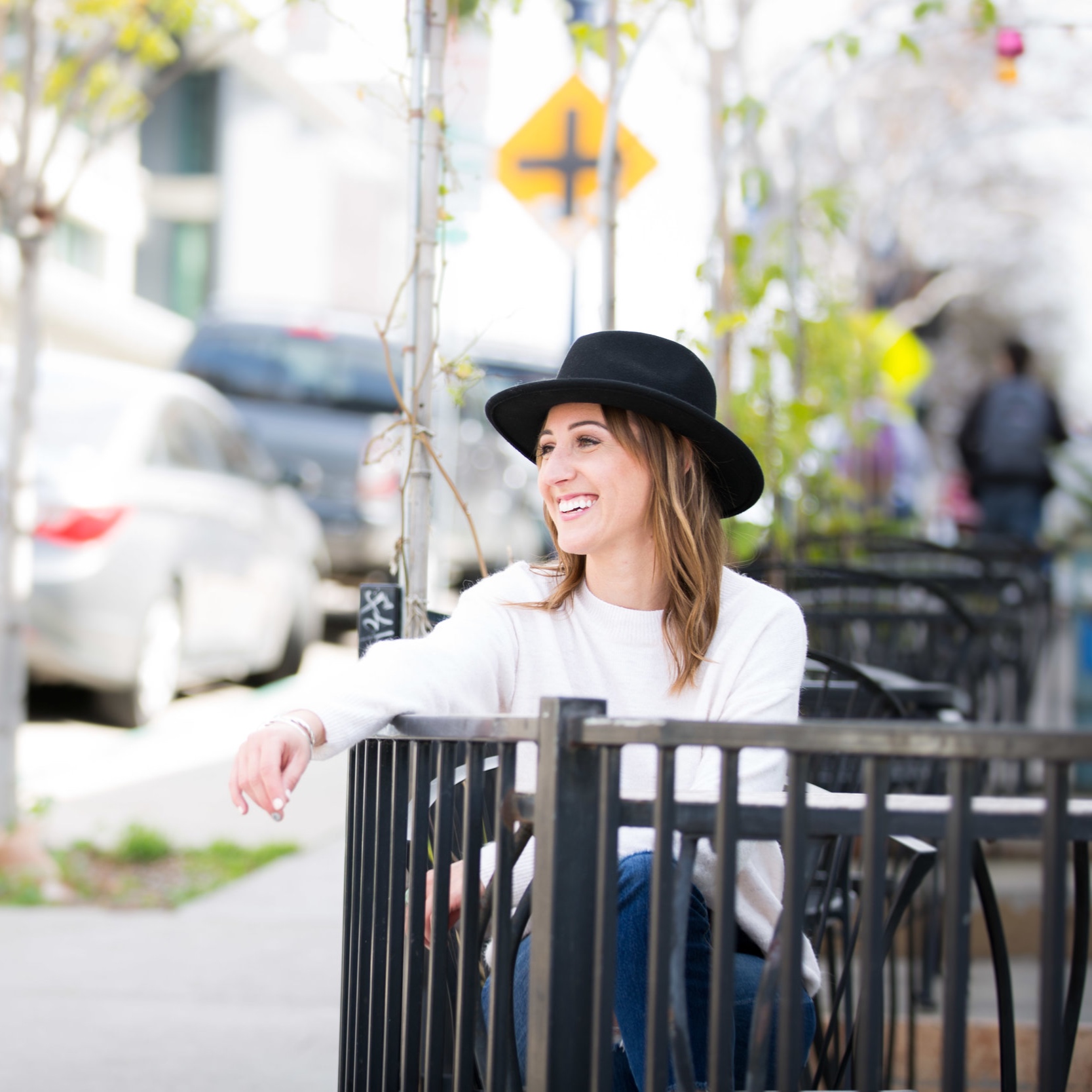 Master Stylist
Renee was born and raised in San Diego and has had the pleasure of being a hair stylist for over 10 years while training regularly in all aspects of cutting and coloring hair. In 2018, Renee, her husband and their two fur-babies made the move to Ogden, Utah to experience seasonal changes and a slower pace of life. From the moment you sit down in her chair, you will feel welcomed and supported. She is here to help you create individualized looks that are not only functional but empowering! She utilizes kindness and care as well as exercising the strong art of listening to establish, maintain and grow relationships. If you are looking for a change but want the input of a professional, if you are looking for an experienced stylist, if you are wanting a better understanding of your hair and your hair's maintenance, she would love to meet you!
Massage Therapist & Hypnotherapist
Brooke is one of those special people you meet and instantly feel the power of her healing energy. We are happy to have her not only for her massage skills but her life-changing energy work.
Brooke Southam began her path into alternative healing in 2000. She is a Goddess Coach with a passion for helping women thrive in their relationships, by breaking through emotional and mental barriers, and rebuilding their inner Goddesses with compassion, community, and change work skills. She also utilizes vibrational healing to achieve major life changes for her clients. Depression, lethargy, and emotional overwhelm are easily alleviated with this approach. Brooke also provides massage therapy for total mind, body, and spirit balance and wellness.